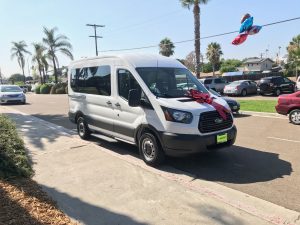 For the school year of 2017-2018, we made it our goal to purchase a van for our sports teams and clubs. Purchasing a van would make it possible for our students to attend more games and participate in more community events without the issue of transportation stopping them. Additionally, it could be used to help supplement field trip transportation needs and other future possibilities.
The goal was to raise $40,000 to purchase such a van. And guess what? WE DID IT! On August 20th, our Athletic Director, Linn Dunton was able to go to Mossy Ford of El Cajon to purchase our van in cash as a result of funds raised through the Patriot Legacy Education Foundation! This purchase will open up our LFCS family to so many possibilities. We are so excited!
But we are not stopping here. We are looking forward to our future of more possibilities. We look forward to purchasing more vans to create more accessibility to our students. And this is just the starting point. As the PLEF grows in its ability to provide funding to LFCS….we are dreaming of big things! We sincerely hoping you are dreaming and looking forward with us…but for now let's celebrate! We've got it!